Seniors & Pensioners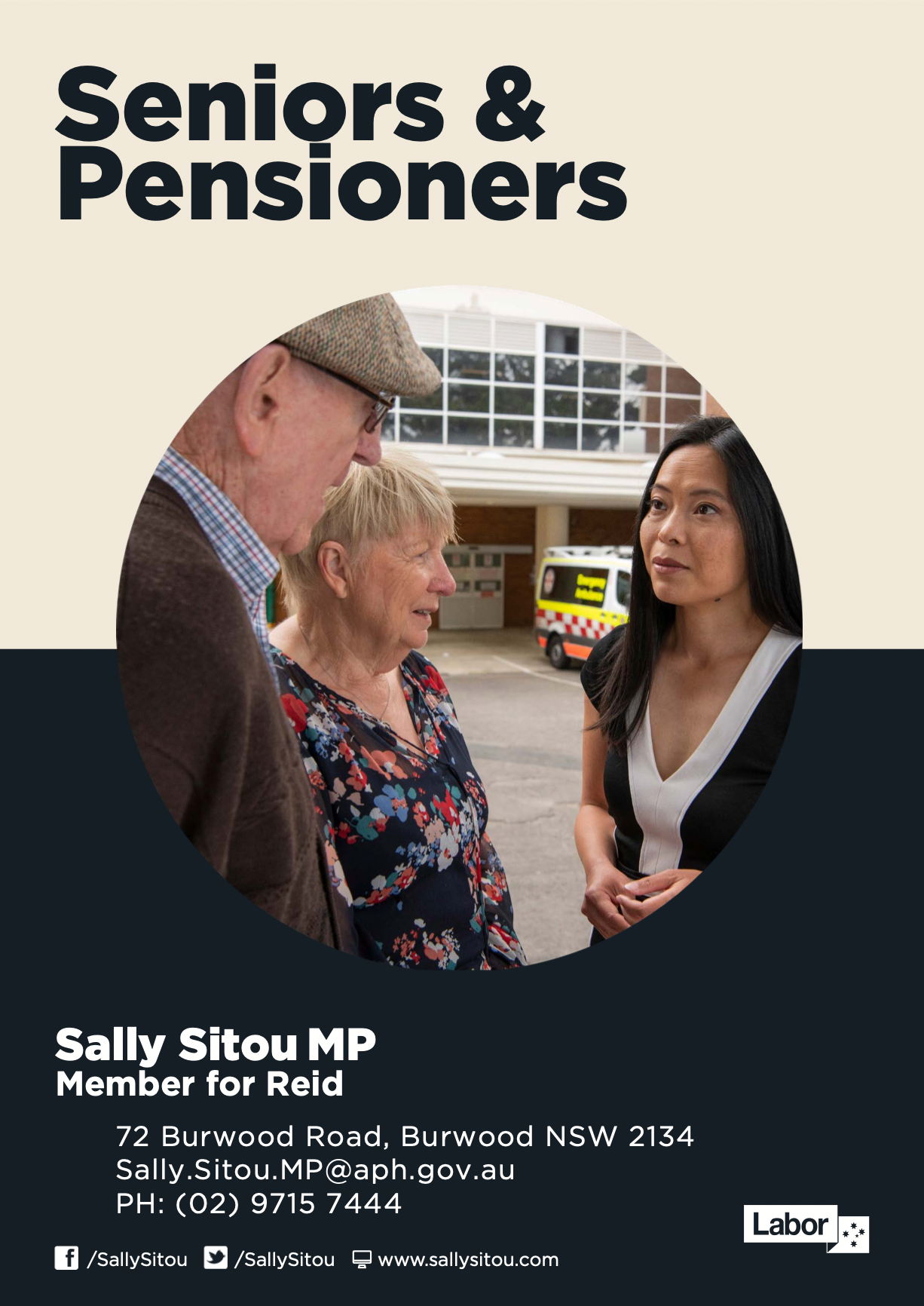 Seniors & Pensioners Information Kit
The last couple of years living through the Covid‐19 pandemic have been tough for our community. The restrictions on movement to limit the spread of the virus has meant missing out on important social, family and community gatherings, and it has been an isolating time for many older Australians.
In this kit you will find important up to date information relating to:
Government services and support, including pension payment rates;
Concession Cards, Medicare, and Health;
Carers and Carers Allowance; and
Contacts for community support services.
Please fill out the form below to request a copy of the kit. Alternatively, call or email my office via [email protected] or (02) 9715 7444.
Community Contacts
Men's Sheds
Men's Shed is a community-based, non-profit, non-commercial organisation that is accessible to all men and whose primary activity is the provision of a safe and friendly environment where men are able to work on meaningful projects at their own pace in their own time in the company of other men. A major objective is to advance the well-being and health of their male members.
City of Canada Bay Men's Shed

Address: 1a Gipps Street, Concord, NSW 2137
Contact: Tony Hill 02 9745 1487
Breakfast Point Men's Shed

Address: The Gatehouse, Breakfast Point, NSW 2137
Contact: Tony Rae 0412 385 913
Strathfield Men's Shed

Address: 28 Pomeroy Street, Homebush, NSW 2140
Contact: Bob Turner 02 9746 3372
Meals on Wheels
Meals on Wheels delivers nutritious meals, social interaction, and a friendly check of a client's well being. It is not means tested but eligibility requirements include: 65 years or older, are registered for My Aged Care, & are registered with the Commonwealth Home Support Program (CHSP). Meals on Wheels offer a range of meals to suit personal requirements and can accommodate special dietary needs, cultural, and taste preferences.
Inner West Meals on Wheels

Address: 2 Crane Street, Concord, NSW 2137
Contact: 02 9747 1135
Strathfield Seniors
The Strathfield School for Seniors is a community of people aged 50+ who come together to socialise and learn new skills in a relaxed, safe and supportive environment. They meet every Friday of the School Term and everyone is welcome on a weekly or casual basis. Classes include Arts and Crafts, Computers, Current Affairs, exploring your Family Tree, Bridge and Scrabble.
Address: 11 Carrington Avenue, Strathfield, NSW 2135
Contact: Helen (Secretary) on

[email protected]

or 0410 689 641
Strathfield West Senior Citizens Club
Strathfield West Senior Citizens Association (for people aged 50 years+) meets at the Strathfield Community Centre. Activities include bridge, indoor bowls, Tai Chi, folk art, crafts and outings.  Membership is $20 per annum and $25 for couples (i.e. husband and wife). A Birthday Party and Christmas Party is held annually.
Address: Strathfield Community Centre, 1B Bates Street, Homebush
Contact: Marlene on 9764 1037
Drummoyne Community Centre
DCC is a not-for-profit organisation providing a caring, inclusive space where people of all ages connect. Drummoyne Community Centre offers a wide range of programs and activities for the over 65's. Groups offer companionship, connection and an opportunity to explore interests. New members always welcome.
Address: 10 Cometrowe Street, Drummoyne, NSW 2047

Contact: (02) 9719 8102 or

[email protected]
Concord Senior Citizens Club
Concord Senior Citizens Centre caters for a wide range of people. The centre has a warm and friendly environment and runs a regular program of activities. The Concord Senior Citizens Club is the principal tenant within the Concord Senior Citizens Centre and their administration office for their club is based at the centre. The City of Canada Bay Museum is located at the base of the building providing local historical information. The centre is accessible for those with disabilities and provides amenities for their use. Disabled parking is also available. 
Concord Senior Citizens Club runs from the Concord Senior Citizens Centre. The club offers a number of activities including: Handicrafts group making rugs, toys and beanies for children's hospital and other worthy groups, Quilting groups, Ballet and tap dancing for seniors, Table tennis, Gentle aerobics and/or toning and conditioning with an accredited trainer, Art groups, & Yoga with an accredited trainer.
Address: Corner of Bent and Wellbank Streets, Concord, NSW 2137
Contact: 0401 887 192 or

[email protected]
Drummoyne Municipality Senior Citizens Club
The club hosts Thursday luncheons and regular monthly outings.
Address: 422 Lyons Road, Five Dock, NSW
Contact: 0414 512 361 for all enquiries
City of Canada Bay 'Active Adults' (day trips for over 55s)
City of Canada Bay Council provides full day bus outings to exciting locations around the Sydney metropolitan area and beyond. Trips previously provided include Berry, Wollongong and the Central Coast. 
Active Adults bus trips are designed for people who: Live in the City of Canada Bay local government area and are over 55 years of age, Are active and able to walk moderate distances, Do not require assistance getting on and off the bus, Can provide their own transport to the bus pick up locations. 
Trips operate twice a month on Thursdays and are COVID safe.
City of Canada Bay 'Bay Connection' (bus trips for over 55s)
The City of Canada Bay offers a program of bus trips for people over 55 years of age who live in the local government area. The aim of the program is to improve social connection and cohesion among older people within the community and contribute to their overall health and wellbeing. Currently the program has over 60 participants from the City of Canada Bay area.
BayRider: shuttle bus service
The BayRider is a shuttle buys service for those living in Canaday Bay Council and experiencing transport difficulties. It operates on Wednesdays and Thursdays.
Bookings are essential and must be made on the Tuesday of the week of travel between 9am and 12pm. A gold coin donation is requested for each trip. 
Contact: the Drummoyne Community Centre on 9719 8102
Tamil Senior Citizens Association
The Tamil Senior Citizens' Association is one of many Associations in Australia that cater for to the welfare of its Senior Citizens, with particular emphasis on the welfare of the Tamil ethnic community.
Strathfield Council Home Library Service
Council provides a Home Library Service to residents who are unable to visit the Library due to disability or lack of mobility. Library staff deliver pre-selected materials on a monthly basis to the home or nursing home of the resident. 
Contact: Strathfield Library Information Centre 8762 0222.